Using interns to create informal biographies of legislators, we give students the opportunity to interact with legislators, health care leaders, educators and the executive and Judicial Branches of government.
Apply Now for Our Internship Program

With programming and study guides for the classroom and online, covering such topics as the Nevada and U.S. Constitutions, historians like Clay Jenkinson will bring history alive in an engaging and learning-rich format.

The third component to Nevada Newsmakers Outreach will be our scholarships, given to our top interns each year.
2017 Outreach Banquet
2017 Outreach Scholarship Recipient Frankie Wenson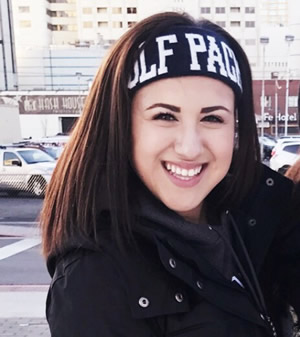 Frankie Wenson is currently attending the University of Nevada, Reno (UNR) studying Journalism. During her middle school and high school years she knew she wanted a career in Journalism and took steps to accomplish her goal. In high school she was part of WCTV19 with 60 students who wrote, produced and shot a weekly show called, "Unleashed." During her junior year she won two student Emmy's and is very proud of the student Emmy for Sports Reporting. Her work confirmed her desire to study Journalism at UNR and hopes to land her dream job with ENews. She wants to work for a media company that would allow her to bring her own creativity and personality to reporting.
When Frankie is not at school she enjoys creating and editing videos. Through these videos chronicling her social activities she creates podcasts. She lives journalism as if it's part of her life. She currently works for the American Eagle Company and their store Aerie. They recently launched a campaign that promises not to retouch models and promote body positivity. Frankie says, "I love working for a company that tries to uplift young girls and people to love the skin their in, because we only have one body and mind."
Her goal is to work at ENews one day. She hopes that through hard work and her passion to display her journalism skills in every aspect of her life, will pay off in the long run.
Over the next decade we are likely to see Frankie on ENews, writing for Vanity Fair or possibly even working in radio. Whatever she chooses it will encompass her love of journalism. Her work will represent her passion to report on stories she is passionate about and stories that allow her to connect to viewers on a personal level.
Frankie Wenson is the recipient of the Spring 2017 Nevada Newsmakers Outreach Program Scholarship.
You can read two of her published articles below, along with a video.
New Campaign Brings Mental Health Awareness to University
2015 Outreach Awards Banquet Video
Watch the 2015 Outreach Awards Banquet video by clicking this link.
2011 Outreach Awards Video

Watch the 2011 Outreach Awards Dinner video by clicking this link.
Legislative Watch:
This allows our interns to useful skills and our interviews reflect their hard work and dedication. Check out our Legislative Watch pages, and get to know your representatives.



About Nevada NewsMakers Outreach:
Nevada NewsMakers Outreach, Inc. is a non-profit organization, focusing on the key issues of politics, business, health and education. Each year, Nevada NewsMakers Outreach recognizes key Nevadans on their efforts to improve our state and help our citizens become more aware of the important issues facing Nevada. For more information please
contact us
.

© 2023 Nevada NewsMakers Outreach Inc., All Rights Reserved