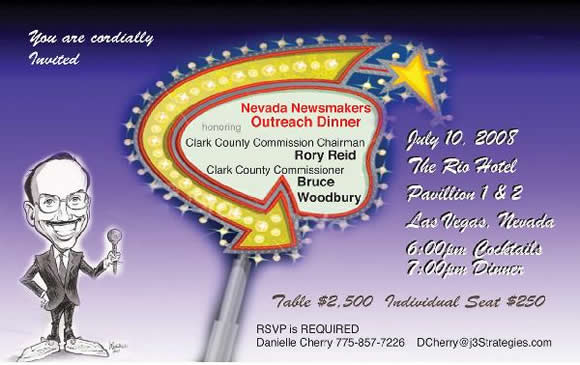 Nevada Newsmakers Outreach, Inc, hosted its second annual fundraising dinner on July 10 at the Rio in Las Vegas, honoring Clark County Commissioners Bruce Woodbury and Rory Reid. Speakers at the function included the honorees as well as Nevada Newsmakers Outreach Executive Director Sam Shad, Melissa Woodbury, who presented the award to her dad, and Chris Giunchigliani , who presented the award to Rory Reid.

The annual dinner is a primary fundraising event for Nevada Newsmakers Outreach, which uses the money raised to provide scholarships and internships, create educational programs, and make contributions to help disadvantaged students.

Shad noted that last year, the program granted two scholarships for $1000 each to outstanding journalism students in the names of Bill Raggio and Barbara Buckley at UNR and UNLV. Buckley and Raggio were the honorees at their 2007 dinner. Plans call for two scholarships to be given this year in the names of honorees Woodbury and Reid.

The dinner also included a video presentation describing the 15 half hour shows that Outreach has shot on the U.S. Constitution. Clay Jenkinson, the Presidential Scholar, and Shad worked together on the programs, which are ready to go into post production. When completed, the videos will be given free of charge to all the high schools and colleges in the state.

Attendees were also invited to view the website, NevadaNewsmakersOutreach.com, which includes interviews with prominent legislators that were conducted by the program's interns. The intern program is designed to train budding journalists and political science students in the art of interviewing. A video presentation by one of the program's 2007 interns, Andrea Steavens, was shown to the dinner attendees.

Shad noted that plans for next year include continuing the scholarships, intern programs, contributions to disadvantaged schools and finishing the US Constitution programs.



© 2022 Nevada NewsMakers Outreach Inc., All Rights Reserved