Legislative Watch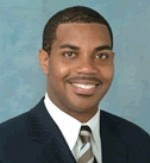 Stephen Horsford
District:
Clark No. 4
Political Party:
Democrat
Current Job/Position:
Executive Director
Born:
1973
Hometown:
North Las Vegas, NV
Family:
Wife Sonya Horsford, children Benjamin, Bryson
Education:
Edward W. Clark High School, Las Vegas; University of Nevada, Reno
Interviewed By:
Lea Moser
Interview Date:
7/30/2008
Steven Horsford has been a Nevada State Senator since 2004 for District Four.

 

In 2004 he was also a Super Delegate for the Democratic National Convention.

 

Senator Horsford is also the founding member of the Caucus of African-American Nevadans.

 

Senator Horsford is also strong supporter and defender of education in Nevada, stating during a legislative session that the other side would balance the current budget issue, "on the backs of Nevada schoolchildren."
Q & A
Q - HOW DID YOU GET TO WHERE YOU ARE?
"I first ran for office in 2004, replacing Senator Joe Neil.

I just decided to put my name on a ballot and now I'm running for re-election."
Q - WHAT OTHER JOBS DID YOU HAVE LEADING UP TO THIS ONE?
"I am a native of Nevada, I graduated high school in Clark County and went to college at the University of Nevada, Reno. I started as a legislative intern many years ago and worked there for many sessions. I have served in many capacities around the legislative process."
Sen. Horsford was a legislative intern for the Nevada State Assembly Committee on Education.
Q - DID YOU ALWAYS WANT TO BE DOING WHAT YOUR DOING NOW?
"It was never a plan of mine to run for public service, but I knew I wanted to help give back to my community and I'm proud now to run for office."
Q - WHAT ARE YOUR GOALS FOR YOUR REGULAR CAREER OR PERSONALLY?
"To continue to represent the constituents in District 4 and the state of Nevada. I want to try and build a blue print for the state of Nevada and how we fund for essential services. I believe we can make a road map to create world-class schools and health care for every one in Nevada."
Sen. Horsford did not give specifics on how his "road map" would be accomplished.
Q - WHAT ARE YOUR HOBBIES OR INTERESTS?
"Spending time with family and my children. We like to go on family trips

and just spend any free time we have together."
Q - WHAT UNUSUAL EVENT HAVE YOU BEEN INVOLVED IN, OR UNUSUAL OR MEMORABLE PEOPLE HAVE YOU MET?
"I am currently involved in the Barack Obama campaign for the presidency.

I have been involved in Obama's campaign for over a year and a half now, and I've had the opportunity to meet him and his wife, and I look forward to Obama getting sworn in as our President."
Q - HOW DID YOU BECOME SUCCESSFUL AT WHAT YOU DO?
"I would say perseverance and sticking to the core values of working with people.

It's about representing people who don't typically have a voice in the government, and I feel successful when I can create a voice."
Q - WHAT ARE YOUR FAVORITE CAUSES?
"Education is the most important to me, as well as children issues whether it be health care or juvenile justice."
Sen. Horsford is the chairman of the Juvenile Justice system in Nevada, where he is "looking for ways to create alternatives to juvenile detention centers."
Q - WHO OR WHAT ARE YOUR INSPIRATIONS?
"I have several people I admire, many mentors, Senator Dina Titus, she is someone I hold in high regard, also Congressman John Lewis, who is the only living Civil Rights leader who spoke at the "I have a Dream," speech, and Barack Obama, who is someone I try to emulate."
Q - WHAT ARE YOU LEGISLATIVE GOALS NEXT SESSION?
"We will be working to find a way to handle the budget and balance it, while at the same time funding essential services, health care and public safety. We are facing difficult financial times with the shortfall. There are several bills, specific ones dealing with child welfare, making more public private partnerships for child welfare. Some different ways to reform public education in ways to make the dollars better spent."
Sen. Horsford did not give any specific bill names that would be out next session.
Q - WHAT ISSUES FACING NEVADA DO YOU THINK ARE MOST IMPORTANT?
"Creating a plan for our future.

We honestly don't have a strategic plan, we typically take a two-year approach, and because we've grown so much it just hasn't kept up with the needs of our people."
Q - HOW DO YOU VIEW THE SLIM REPUBLICAN MAJORITY IN THE SENATE?
"To me its not about republican or democrat, its about what the voters want, obviously there is a feeling of change, both at the state and at the national level, with President Bush who disappointed voters.

I feel very good about the voters looking at the candidates running and realizing how they would better fit their concerns."
Q - HOW DO YOU VIEW THE LARGE DEMOCRATIC MAJORITY IN THE ASSEMBLY?
"Well, under it's current leadership, it has been working very hard to maintain it and increase it.

I think they will be able to create a super majority which would allow for a veto overide."
Q - ON WHAT ISSUE WILL YOU NOT BUDGE?
"On my ethics and integrity.

My ethics entail that I will do what's right for my constituents without pressure from outside influences."
Did you Know?
·        Sen. Horsford is a member of the Asian Chamber of Commerce, a member of Las Vegas/Clark County Urban League, and a member of the Latin Chamber of Commerce.
·        Sen. Horsford was an Aide in 1994 for the campaign to re-elect Governor Bob Miller.
·        Sen. Horsford is the Executive Committee member and Chair of the National Association for the Advancement of Colored People Academic Las Vegas Chapter.
Sources:
http://www.votesmart.org/bio.php?can_id=44064
http://www.nevadanewsmakersoutreach.com/admin/legistlativewatch/
<<< Return

© 2022 Nevada NewsMakers Outreach Inc., All Rights Reserved