Legislative Watch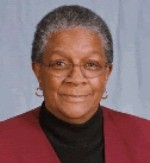 Bernice Mathews
District:
Washoe No. 1
Political Party:
Democrat
Current Job/Position:
Small Business Owner
Born:
1933
Hometown:
Family:
Children Arnold II, Anthony, Aileen, Barbara, Ruben, Clive, Allen (deceased)
Education:
University of Nevada, Reno (UNR), B.S.N. and M.Ed., Administration of Higher Education.
Interviewed By:
Hillari Bynum
Interview Date:
10/29/2009
Senator Bernice Mathews has been an active member of the Nevada State Legislature since 1995. Throughout her life, Bernice Mathews has succeeded in being an active small business owner, Dean of the TMCC School of Nursing, and an advocate for women's rights and education.


Q & A
Q - HOW DID YOU GET TO WHERE YOU ARE?
"Ah-I just think I'm here personally because of the family I came from. Sometimes you're blessed to be in a good family, even though we were dirt poor, we didn't know that until I found out there were people with money in the world—I thought we were rich. So I think that kind of thing. My mother was a bear for education. And professionally I had great friends. So that's how I got started; a lot of good people in Reno that tried to help prepare me for a life in politics that I wasn't ready for."

Q - WHAT OTHER JOBS DID YOU HAVE LEADING UP TO THIS ONE?
"I'm a registered nurse, I started as a nurse's aide, and I'm a graduate of the UNR School of Medicine."

Q - DID YOU ALWAYS WANT TO BE DOING WHAT YOU ARE DOING NOW?
"No-never thought I'd ever be here, Never even dreamed of it. But I retired from the university system in 1991, and when I retired I ran for city council and my friends encouraged me. Anyway that's how I got into politics on a local level. In the state, the democratic candidate decided that—two weeks before closing—she didn't want to run again for her seat in the senate and I had these great friends that didn't tell me what I was getting into. I did, they encouraged me-that I could probably beat the candidate on the other ticket. I won sectionals and they thought I won the election."

Q - WHAT ARE YOUR GOALS FOR YOUR REGULAR CAREER OR YOUR PERSONAL GOALS?
Oh my goodness, I'm in the legislature until November 2010. I'm co-chairing finance in the interim and I'll be doing that until November 4th. And I'll be 77 by that point, and that's probably old enough to start settling down. I never plan for the next step. And when your 77 you make less long term plans, you make more short term plans. Your goals are in short increments. I don't know what I want to do at the moment I just want to do a good job, and help us through this difficult time.""

Q - CAN YOU ELABORATE ON WHAT YOU MEAN BY "THIS DIFFICULT TIME?"
"We have no money. People with the least hurt the worst, people on social services, or in a nursing home. But when you have no money those are the people that hurt first and they are hurt the worst. The Government has some responsibilities to make sure those people are taken care of. Either on a state or federal level."

Q - WHAT ISSUES FACING THE STATE DO YOU THINK ARE THE MOST IMPORTANT?
"Health, Education, and Infrastructure. Whether we like it or not we have to continue to upkeep and update the infrastructure. You only have to drive to Las Vegas to know that. Anyway the main things are health issues and education. No child left behind left a lot of children behind. So we're trying to get it back on track."

Q - WHAT DO YOU MEAN BY 'GET IT BACK ON TRACK'?
"There is an element of society that will always be educated because they can afford it. But the majority of the people become the responsibility of the government, whether it be local or federal. Everyone in this country deserves a quality education. And we're responsible for getting that done. Every child should have an education."

Q - ON WHAT ISSUES WILL YOU NOT BUDGE?
"Education. Libraries are very close to my heart. I want to make sure they get funded. I think technology is great but they need to go hand in hand. We can not go without the printed word."

Q - WHAT ARE YOUR HOBBIES OR SPECIAL INTERESTS?
"Oh my God you should go out to my car and look! It's full of crochet materials. And I fish. My kids are having a fit because I'm getting old and they don't want me out there by myself. And I do a considerable amount of reading, but I don't consider that a hobby, as much as a requirement."

Q - WHO OR WHAT ARE YOUR INSPIRATIONS?
"My mother was an education nut. She was my biggest inspiration. I just think-my inspiration was my mother, and along the way I've had a lot of other people who were very encouraging. I look at people and I think when I grow up I want to be just like them."

Q - IF YOU CONSIDER YOUR OVERALL CAREER IN POLITICS WHAT'S THE ONE FUNDAMENTAL THING YOU LEARNED?
""That life is politics. It's a lot of give and take.""

Q - YOU WERE BUSINESS WOMAN OF THE YEAR CORRECT? AND HOW DO YOU FEEL ABOUT THAT.


"I don't know. I don't know how I feel about any honor. I always feel like there are so many people out there more deserving than myself. And particularly I think honors would be a lot more meaningful being given to a young person to encourage them."



Q - HOW DO YOU SEE YOURSELF?
"The bag lady of Reno. And the only reason I say that is because if you saw me on the street would you think I'm a Senator? No. And I keep this persona for a reason. I am who I am and the people elected me."


Did you Know?
Sources:
<<< Return

© 2022 Nevada NewsMakers Outreach Inc., All Rights Reserved