Legislative Watch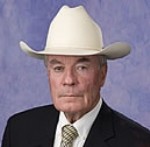 Dean Rhoads
District:
Rural Nevada Senatorial District
Political Party:
Republican
Current Job/Position:
Rancher
Born:
1935
Hometown:
Tonasket, Wash.
Family:
Wife Sharon Packer, Children Shammy and Chandra
Education:
California State Polytechnic College, San Luis Obispo, B.S., Agriculture Business Management
Interviewed By:
Daniel Riggs
Interview Date:
5/2/2008
Q & A
Q - How did you get to where you are?
"I ran for the assembly in 1976… I was the only newly Republican candidate in the state… Then in 1982 Nevada got a new congressional seat… then three years later I ran for the Nevada State Senate. I've been reelected five times."
Q - What advice to you have for others trying to get to where you are?
"The way I kind of got involved in it… I spent a lot of time in Washington DC working on things that affect my district. Certainly a good way to get started."
Q - What other jobs did you have leading up to this one?
"I was in the (State) Assembly for six years. I won my first race against a well-known county commissioner; Chairman of Elko County Fair Board; Chairman for the Airport Advisory Committee (county level); Appointed by Pres. Reagan for the Federalism Advisory Committee, which was made up of forty people.
"The purpose of that committee was to look at things the federal government was doing… we always met at the White House, the president always came in. Sometimes it was quite honoring. It was a very interesting series of meetings. I used to sit right next to the mayor of New York during the meetings… And it changed a lot of things too."
Sen. Rhoads used his position to challenge land ownership laws, citing that the federal government owns 87 percent of Nevada land. Concerning a bill he pushed through, he said: "The President named it the Sagebrush Rebellion… It's still on the books in Nevada. We claim that we still own that land."
Sen. Rhoads also works as a rancher.
Q - Did you always want to be doing what you're doing now?
"In high school, I was always in some kind of elected office… I held several offices during college… But I never dreamed I'd run for state senate—and win."
Q - What are your goals for your regular career or personally?
Sen. Rhoads used this question to discuss term limits. Under current Nevada law, Sen. Rhoads and many legislatures of both parties and of both houses will not be allowed to run after next session. That law is likely to come under fire from senior legislatures and other state officials. Sen. Rhoads explained that there is a discrepancy in the way the law was passed because state judges voted in the first passing of the law but not the second; the law had to be passed twice.
Said Sen. Rhoads: "I guess, in the next session, I've only got one more term to run… however, there's probably going to be a court challenge on term limits… but one thing is to protect my district.
"Mining, ranching, and recreation are all very important to my district… there's issues that need to be addressed there. A lot of it on the national, some of it on the state level."
Concerning term limits, Sen. Rhoads said: "I think if you set in term limits… you're going to turn over more power to the executive branch and the legislature… instead of seasoned legislators that have a memory of how good things can be. Or bad… and try to wary off bad times. It would definitely give more power to the lobbyists."
Q - What are your hobbies or interests?
"I'm a full time rancher and I don't have much time for anything. I'm probably a workaholic when I'm not going to meetings."
Q - What unusual events have you been involved in, or unusual or memorable people have you met?
"Memorable events, I used to ride the rodeo curcit… I was on the college rodeo team."
Politically, Sen. Rhoads said: "Probably the most memorable people I've met are Presidents Reagan and Senior Bush."
Q - How did you become successful at what you do?
"I guess hard work. I was always a better listener than I was a speaker… I learned early in my career that you have to work with the other side to get things accomplished."
Q - What are your favorite causes?
Sen. Rhoads discussed public land regulations on ranching and mining. He said that the majority of his constituents make their livings on the land, either through ranching or mining. He cited an eight percent tax on gross income for miners, saying: "Many of us think that's unfair."
Q - Who or what were your inspirations?
"Roy Young, who was a rancher here and a longtime assemblyman, was someone I really looked up to. And of course president Reagan and (U.S.) Senator Paul Laxalt (who served as a senator from 1974-87; and is the brother of Nevada writer Robert Laxalt)."
Q - What are your legislative goals next session?
"It's going be pretty tough with a billion dollar budget (deficit). But I'd like to get some money appropriated again."
Sen. Rhoads said he hopes to get funding for various needs in his district, including money for new equipment for the volunteer fire department and money to bring workers to rural parts of the state."
Said Sen. Rhoads: "The best responder to these fires are volunteer fire departments… their equipment is getting really old and wore out, I'd like to get them some money."
Concerning Nevada's budget deficit, Sen. Rhoads said: "In 25 years, I've never seen one this tough."
Q - What issues facing Nevada do you think are most important?
"I guess we'll start with the budget. The budget and quality of school care. It's very difficult to get help. Maybe there should be more emphasis on vocational school."
"Water is almost fighting words in rural Nevada." Sen. Rhoads explained an ongoing struggle with Clark County for water, saying that Clark County often wants to use water that ranchers need which "takes away potential for rural counties to grow."
Q - How do you view the slim republican majority in the Senate?
"It makes me a little nervous. We're only 11-10… our incumbents running are pretty strong… I think we'll hold on to the 11."
Q - How do you view the large democratic majority in the Assembly?
"Well yeah, that's the problem. They just don't seem to be able to recruit good candidates I guess (referring the his party)… I think the leadership is more talented and more optimistic than in the past… they might be able to pick up a few more seats."
Q - On what issue will you not budge?
"Water is one. The southern area and even Reno is starting to get some of our water… they have to leave behind a reasonable amount for rural growth."
Sen. Rhoads also discussed the repository at Yucca Mountain. The Yucca Mountain site is located in his district. Said Rhoads: "I oppose it. I think that if we accept Yucca Mountain, we're going to become the garbage state of America… As states' rights, we should be able to determine what we have in our state. And nuclear waste certainly isn't one that I'm fond of. When I go to national meetings, I meet a lot of legislatures from the states that are affected.
"When I ask them if it's safe, they say it is. Then when I ask them why don't they put the waste in their own state, then they say, 'well, it's not really that safe."
Did you Know?
-Sen. Rhoads is the Chairman of the Senate Natural Resources Committee
-Sen. Rhoads is the Senate Majority Whip
-Sen. Rhoads worked as a "citizen-lobbyist" for the Nevada Cattle Association
<<< Return

© 2022 Nevada NewsMakers Outreach Inc., All Rights Reserved