Legislative Watch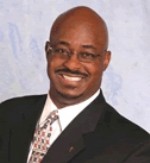 Maurice Washington
District:
Washoe No. 2
Political Party:
Republican
Current Job/Position:
Pastor / Businessman
Born:
1956
Hometown:
Albuquerque, New Mexico
Family:
Wife, Donna; children, Michelle, Jason, Angelise, Dennis; grandson, Elijah.
Education:
University of Nevada, Reno, Business Administration.
Interviewed By:
Andrea Stevens & Daniel Riggs
Interview Date:
6/14/2007
Maurice Washington has represented Senatorial District No. 2 of Washoe County (portions of Lyon, Storey, and Washoe County), since 1995. He has coached Sparks Pop Warner Football from 1988-1994, and Young Men's Christian Association Youth Basketball in 1992. Washington also is the founder and pastor of Center of Hope Christian Fellowship on Pyramid Way in Sparks, NV. He is chair of the Education, and Human Resources and Education Committees, vice chair for the Judiciary Committee, member of the Transportation Committee, and member of the Transportation and Homeland Security Committee.
Q & A
Q - How did you get to where you are?
"I gave a speech at the Washoe County Republican Convention, and was asked to run. The rest is history."

Q - What other jobs did you have leading up to this one?
"I sold advertising, and I was an electrician for a while. I got involved with politics on the peripheral, and was eventually appointed to the City of Reno for government recommendations for CCV funds and government grants."

Q - Did you always want to be doing what you're doing now?
"Well, It has always been an aspiration of mine, I just never acted on it. I worked on campaigns during high school, and was later appointed to a few committees for the City of Reno."

Q - What are your goals for your regular career or personally?
I am a pastor (Center of Hope Christian Fellowship) at a church. I would love to see it grow and prosper and soon become a vital part of the community. I want the church to change lives, and be a light of hope."

Q - What are your hobbies or interests?
"I love sports of all kinds, especially basketball and football."

Q - What unusual events have you been involved in, or unusual or memorable people have you met?
"I met President George Bush, and former President, Bill Clinton."

Q - How did you become successful at what you do?
"With a lot of hard work. Have you ever heard the saying, 'birds of a feather flock together?' I just hung out with the right people, learned from them, and stuck to my goals."

Q - What are your favorite causes?
"The Crisis Pregnancy Center and Teen Challenge. The Crisis Pregnancy center deals with young women that find themselves in a situation for considering aborting a child, and helps them find other ways to handle the pregnancy. Teen challenge takes young men, and gets them started for a better life. Both organizations have been very successful."

Q - Who or what were your inspirations?
"My former pastor, reverend Willie J Wynn. He has made a big impact in my life. He was charismatic, compassionate, and just a big influence. He provided me with direction in life when I needed it most."

Q - What are your legislative goals next session?
"To work on what we call the Nevada Heath Care Strategic Plan. I would like to make sure healthcare is accessible, of good quality, and affordable."

Q - How do you view the slim Republican majority in the Senate?
"I think we are a cohesive group with good leadership."

Q - How do you view the large Democratic majority in the Assembly?


"They do have a new speaker, and I would like to congratulate Barbara Buckley for being the first lady speaker in the Nevada State Assembly. They have their agenda and try to get as much accomplished as possible, and do a good job of it."



Q - On what issue will you not budge?


"There is nothing in legislation that is not up for grabs. I am open to the idea of allowing school districts to make decision based on the needs of their students in their schools."




Did you Know?
· Senator Maurice Washington was honored the National Parent of the Year Award in 1997 by the Parent's Day Council
· Washington was also honored the Outstanding Service Award in 1995, by the Families of Murder Victims and Stop DUI
· In his spare time, Maurice Washington loves shopping
Sources:
http://www.nevadanewsmakersoutreach.com/admin/legistlativewatch/
http://www.nevadanewsmakersoutreach.com/admin/legistlativewatch/
<<< Return

© 2022 Nevada NewsMakers Outreach Inc., All Rights Reserved