Legislative Watch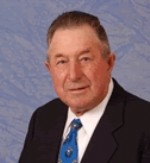 John Carpenter
District:
Elko, Humboldt (Part) No. 33
Political Party:
Republican
Current Job/Position:
Rancher, Real Estate Broker
Born:
1930
Hometown:
Fallon, NV
Family:
Wife Roseann Slater, Children John, Scott, Elizabeth, Susan, Lois, Douglas, and Linda
Education:
White Pine High School, Ely, Nevada
Interviewed By:
2009 Intern
Interview Date:
1/1/2009
Assembly Service: 1987 -2009. Assemblyman Carpenter has served 10 special and 12 regular sessions.


Q & A
Q - How did you get to where you are?
I have always been interested in politics. When I moved from White Pine County to Elko there was a school bond issue in Elko. The school district needed some new buildings and other funding. From there I went on to be county commissioner.

Q - What other jobs did you have leading up to this one?
I was Elko county commissioner for 14 years.

Q - Did you always want to be doing what you are doing now?
I always had an interest in politics, I was always on various boards and committees.

Q - How do you think the budget deficit will impact K-12 and higher education in the next biennium?
The federal stimulus package just passed should help K-12. As for higher education, the proposed budget cuts were a stop-gap measure. The university has agreed to a 14% cut in funding, but what's really going to help the most is a rebound in the economy.

Q - With continuing salary reductions facing teachers, how do you think you people can be encouraged to pursue careers in education?
We need to try and stop further reductions. Educators who are currently teaching don't have a lot of incentives.

Q - What are your legislative priorities and goals for the 2009 legislative session?
To protect rural Nevada, and keep bills that are adverse to Elko County from passing.

Q - What issues facing the state do you think are the most important?
The budget. Some of the social programs are facing cuts which will hurt rural Nevada. Our prisons are a great drain on the state's budget. We need to be smarter about putting people in prison. If the drug and mental health courts, or special services courts are able to keep non violent offenders out of state prisons, then prison populations would go down. There would be then more funding for programs like the special services courts.

Q - What is one thing a Nevadan can do today to help our state in these tough economic times?
"Keep the faith that everything will turn around." They can be frugal with their spending and be sure that they are putting some money away for a rainy day. There are also those who have lost their jobs and who might need help looking for other opportunities. There are various training opportunities. The mining industry here in Nevada is looking for skilled workers.

Q - What will be the legislative impact with both the Senate and the Assembly having a Democratic majority, and the majority of legislators coming from Clark County?
Tax increases are bound to happen. But most Republicans have good working relationships with Democrats.

Q - On what issues will you not budge?
It's hard to say. I don't want to become entrenched on one side of any particular issue. I always try to listen to be open to the other side.

Q - What are your hobbies or interests?
Working.

Q - How did you become successful at what you do?
Hard work, and a lot of luck.

Q - Who or what are your inspirations?
I have a great family. I have always admired presidents Abraham Lincoln and Ronald Reagan.

<<< Return

© 2022 Nevada NewsMakers Outreach Inc., All Rights Reserved