Legislative Watch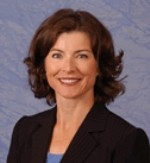 Heidi Gansert
District:
Washoe No. 25
Political Party:
Republican
Current Job/Position:
Medical Practice Consultant
Born:
1963
Hometown:
Reno, NV
Family:
Husband, Guy Gansert, and four children
Education:
Bishop Manogue High School; B.S., Engineering, University of Santa Clara; Master of Business Administration, University of Nevada, Reno.
Interviewed By:
Daniel Riggs
Interview Date:
4/27/2008
Q & A
Q - How did you get to where you are?


"I decided to run in 2004. Then worked very hard in the legislative session on a variety of bills and was reelected."

Assemblywoman Gansert is caucus leader of the Republican Party in the Assembly.



Q - What other jobs did you have leading up to this one?
Assemblywoman Gansert worked as an engineer for various power companies; later she worked as a consultant for her husband's medical business after receiving her masters degree in business administration.

Q - Did you always want to be doing what you're doing now?


"I thought about it when I was growing up… I have always been active in the community and ways to help the community."

Assemblywoman Gansert said her predecessor, Dawn Gibbon, strongly supported her campaign.



Q - What are your goals for your regular career or personally?
"I still work part-time as a consultant. I also have a large family, so I work very hard with my family outside of the Legislature."

Q - What unusual events have you been involved in, or unusual or memorable people have you met?
"When Gov. Romney was here, I got to meet him. That was pretty exciting."

Q - What are your favorite causes?


"I think it's important that we have a balanced budget and that we don't expand government at a rapid pace.

"Education… Nevada does not do well, statistically, and we need to make some changes."

Assemblywoman Gansert also spoke of two bills she worked on that require DNA sampling of all felons in Nevada and she is fighting for more state funding for the testing of samples DNA samples after they are taken.

Gansert estimated it would take about $200,000 a year for Washoe County's testing facility (which tests all the DNA for Nevada, excluding Clark County; which has its own testing center) and about $15,000 monthly to keep testing current.

This issue became more relevant after the kidnapping and killing of Brianna Denison this past winter. The Washoe County's Sheriff's Office did not have adequate funds to immediately test DNA samples found at the scene of the crime to the samplings it had on file that had not yet been tested and recorded. Gansert said there were about 3,000 untested samplings at that time.

Said Assemblywoman Gansert: "It is a universal cause. Something that's very important… everybody's concerned about it."



Q - Who or what were your inspirations?
"My parents were very active in the community. They were—they are—very great role models."

Q - What are your legislative goals next session?


"We need to take care of the funding for DNA."

Concerning education, Assemblywoman Gansert said she supports charter, empowerment and technical career schools, "to give students a choice, to keep them interested and from dropping out." She also said she supports a voucher system—allowing parents to choose which school within their district their child attends—which Gansert said is certain to come up in the next legislative session

Said Assemblywoman Gansert: "It's been proven in other areas that if people are given the opportunity to send their children to better schools, they can do better… schools can improve… in the end, all of our schools will be better."

Concerning healthcare, Assemblywoman Gansert spoke of a non-profit organization, Health Access Washoe County (HAWC), that she believed could serve as an example for similar state agencies in the future, even though no exact plans are in place as of yet.

Said Assemblywoman Gansert of HAWC: "It's a clinic that has a sliding scale… if you make less, you play less.

"It's incredible. It could be a model for other places in the state."



Q - Is something similar to HAWC feasible on a state level?
"We may be able to do it. I'm not sure. I was just so impressed with their organization that it should be something we should look at."

Q - How much would it cost to fix healthcare, so to speak, in Nevada?


"I don't know that you can put a price tag on it, honestly. It costs money. What you have to be able to do is balance the budget with the needs of the state.

"The question becomes: do we expand that? Do we keep it the same? Do we look to private industry?"

Assemblywoman Gansert also listed improving transportation as a legislative goal, saying that it is a large concern in Southern Nevada and is a growing concern in Northern Nevada. Gansert cited Pyramid Highway in Sparks as one area that needs major improvement.



Q - What issues facing Nevada do you think are most important?
"Education—making sure that we improve our education is extremely important. Health care is always at the top of the list too… and I think transportation will be a major issue next session again."

Q - How do you view the slim Republican majority in the Senate?
"It's very critical that the Republicans maintain the majority, especially given the size of the Democratic majority in the Assembly."

Q - How do you view the large Democratic majority in the Assembly?
"I don't think it's healthy for the state… it's important to bring balance back to vet legislation appropriately."

Q - Have you had trouble passing bills that will help the state because you are a Republican due to the large Democratic majority?
"Personally, I've had success in the Assembly… There's a great deal that we (Republicans and Democrats in the Assembly) agree on. But when we disagree, we're at a great disadvantage."

Q - On what issue will you not budge?
"I think we need to hold the line on taxes given the specific turn in the economy. We need to do a better job on education."


Did you Know?
-Assemblywoman Gansert was voted Legislative freshman of the year
-Assemblywoman Gansert was awarded the Nevada State Medical Society Award for Service
-Assemblywoman Gansert championed proactive defense against sexual predators online
Sources:
http://www.leg.state.nv.us/73rd/Legislators/Senators/
<<< Return

© 2022 Nevada NewsMakers Outreach Inc., All Rights Reserved