Legislative Watch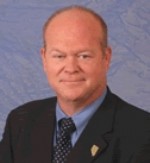 Bob Beers
District:
Clark County District No. 6
Political Party:
Republican
Current Job/Position:
CPA, Business Consultant
Born:
1959
Hometown:
Family:
Wife Sarah Beers and two children
Education:
Clark County School District; University of Washington; University of Nevada, Reno, journalism; University of Nevada, Las Vegas, B.S., business administration.
Interviewed By:
Daniel Riggs
Interview Date:
4/24/2008
Q & A
Q - How did you get to where you are?
"I started volunteering for a candidate's office. One of them was my predecessor in the Assembly… convinced me to run for her seat. And I won. That essentially forced my attention to…government, how it runs and how it could run better. That is the major focus of my life."

Q - What other jobs did you have leading up to this one?
"I was the news director at a couple radio stations in Reno and a couple in Las Vegas. That was in my early adult years."

Q - Did you always want to be doing what you're doing now?
"No. Somewhat of a surprise."

Q - What are your goals for your regular career or personally?
"I think my career goals are to die old with a good legacy."

Q - What unusual events have you been involved in, or unusual or memorable people have you met?
"As is true for a lot of Nevadans—we have such a small state—you get to meet many of your elected political officials. I'm no exception. Probably been privileged to meet six governors. Probably twice as many mayors. Probably the favorite of all that, all the non-elected Nevada citizens that I met in my 2006 run for governor."

Q - What are your favorite causes?


Sen. Beers strongly supports a voucher system for public education. Under a voucher system, parents can choose which school in their district their child attends. Some people, including many Democrats in the state's Legislature, argue that vouchers will create even larger gaps from the best and worst schools. Sen. Beers argues that if the schools compete for the best students, all schools will inevitably become better.

Said Sen. Beers: "Our singular experiment in super-sized government and super-sized school systems has been a failure. Having smaller school districts is one way to do it. The more I read, the more I'm convinced that giving parents choices of which public school would also be another way to do it."

Do you see any cons to it?

"Nope, I don't. I guess the cons are from the people that are concerned public schools would have to compete with one another."

Sen. Beers later added: "A rising tide raises all boats. The overall system is sure to improve the inherit merit of competition… all children would be benefited from it. At least we'd have a method of identifying better schools. Look for ideas from those schools for lesser performing schools."



Q - Who or what were your inspirations?
"I have (had) many and continue having many. I hesitate to name one for fear of spiting the others."

Q - What are your legislative goals next session?
"I think tax payers are under represented in the legislative process… my goal, all in all, is providing them strong representation."

Q - What issues facing Nevada do you think are most important?


"Education, efficiency and promoting limited government."

Concerning healthcare, Sen. Beers said Nevada has "expanded our Medicaid system well beyond our federal mandate, while most states have scaled back to the federal mandate." Beers cited this as an efficiency problem.



Q - How do you view the slim Republican majority in the Senate?
"As all that's standing between Dina Titus and higher taxes for Nevada family. Well, there is the governor too."

Q - How do you view the large Democratic majority in the Assembly?
"I guess I'm not entirely sure. I'm a Republican. I'd always like to see more Republicans holding office."

Q - On what issue will you not budge?


"There aren't any I won't budge on."

Sen. Beers spoke further of education issues and a voucher system.




Did you Know?
-Sen. Beers left the Reynolds School of Journalism at UNR to be a news director at a Reno radio station. He later left Reno for a job of the same position in Las Vegas.
-Sen. Beers is affiliated with the Las Vegas Chamber of Commerce and Las Vegas Northwest Rotary.
-Sen. Beers is a certified public accountant
- He sought the Republican nomination for Nevada governor in 2006
Sources:
http://www.leg.state.nv.us/73rd/Legislators/Senators/
<<< Return

© 2022 Nevada NewsMakers Outreach Inc., All Rights Reserved